Coach Banks
Communications – Performance – Empowerment Coach
Creativity
B

usiness

S

tory

I

magination
Voted one of the Top Performance Coaches in the Industry.
Your Pathway to Greater Success Starts Here!
Emmy Award Winning Coaching
Coach Banks is a Fortune 500 instructor who also does extensive work with Producers, Directors, Writers, Actors, Musicians, Filmmakers, and Dancers in the Hollywood Entertainment Industry, leading several talented artists to win their coveted awards.
Please Note: All new clients must schedule a Sample Session prior to working with Coach Banks. If you are a new client or a returning client, kindly click below to get started.
15-Minute Sample Session
Experience for yourself what Coach Clay Banks is all about!
In this complimentary 15-minute one-on-one session, Coach Banks, or simply Clay, will help determine your pathway to greater success and answer any questions you may have.
Whether you're an entrepreneur, actor, speaker, presenter, business owner, or you just need to work through a challenging situation, this personal coaching session will help you see how Coach Banks can get you there.
Coach Clay Banks
Founder & Head Coach
Many say that Coach Banks is a fantastically inspiring class act! Bold statement? Maybe. However, that's just how many feel!  But, you might want to check him out for yourself. His accomplishments as a former Fortune 500 Motivational Speaker – National Instructor – Published Writer – Director – On-Camera Performance Coach – Improv Director, Comedy Coach – and Life & Business Empowerment Coach, will have you asking… "How's he do it?!" Well, he's been at it his whole life! His profundity is eye-opening as he carefully serves up his words so the listener can gain maximum benefit for their own self-growth and development. He specializes in advanced communication and personal empowerment — while directing you to unlock the ultimate champion inside of you. All of this is backed by decades of proven results! Hasn't really set in yet? Check out our success stories & testimonial page and you'll see. Oh, and he also trains actors on how to work professionally in films and television.
I'm Coach Clay Banks and I actually do approve this message!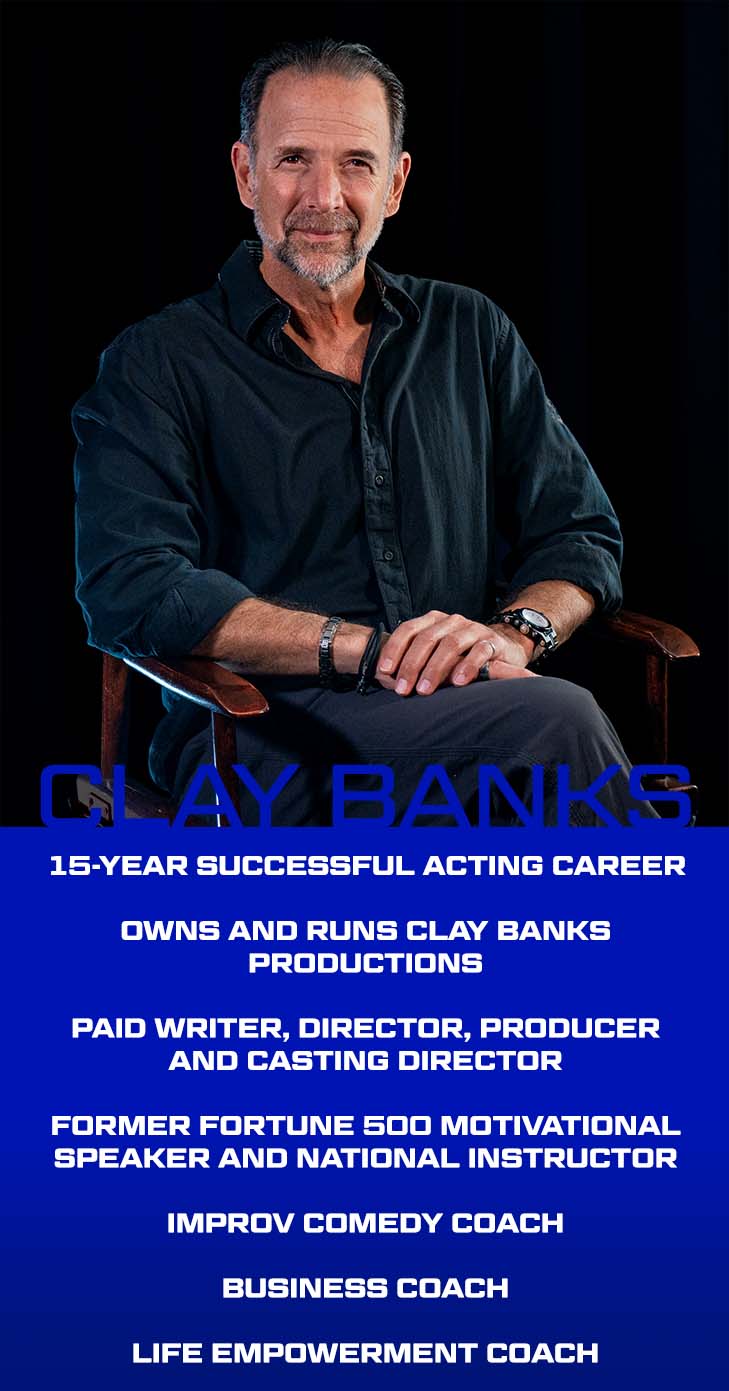 Creativity – Business – Story – Imagination
Coach Clay Banks believes that becoming a better artist is becoming a better human being. And, yes… we all have a measure of creative genius within. Through the coaching insights Clay has developed over the decades, you will not only grow quickly as a professional, but will also improve in all areas of your personal self. Spirit, Soul, Body, Community, and Wallet. Clay has helped literally thousands of individuals improve. Skills, talents and abilities manifesting from his work – resulting in people better achieving their goals! Set up your Sample Session today! Coach Banks will beyond help get you there faster!
How we make the difference in your acting career.
Clay Banks Studio International is a Full Potential Acting Studio. We believe that becoming a better artist is to become a better human being. Through our class structure, you will not only grow quickly as an actor, but will also improve in all areas of your mind, body, and soul. CBSI has helped thousands of aspiring actors improve their skill and achieve their goals. From modeling and commercial acting, to on-stage and on-camera success as well. Just take a look at our list of alumni for more! At CBSI, you will find a highly motivated and growth oriented community that wants to support you, as you support them. Together, we all rise with the tide. Come join us today and let us help get you there faster!
Emmy Award Winning Acting Studio
Let's face it, there are so many pop-up online sensations presenting themselves as industry experts, and offering so-called advice.  The reality is, these psuedo-experts often times lack the long term life experience to truly back up their claims.  Here at CBSI, you gain access to a 30+ year veteran in the Hollywood acting community. We're so confident you will succeed with us, we would like to give you access to some of our actor resources for free.  If you're serious about your craft and want to take your career to the next level, the doors are open and we're ready to set you on the right path to success.
Focus on the results

Coach Banks is a Results Coach! His years of professional experience have awarded him with endless testimonial's. CBSI is an Emmy Award Winning Studio! The proof is in the statue!

Successful personal Coach

Coaching is a profound learning process! It's electric and inspiring… and at times life changing. Get the hands on training you've been looking for.

Comprehensive package of tools

Go into your next audition completely ready! Give your next performance with total confidence. You will leave CBSI with the tools you need to be truly successful.